---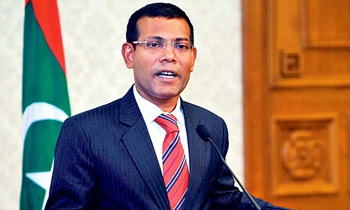 Maldivian opposition leader Mohamed Nasheed has said, when they come to power, they will renegotiate the terms of Chinese-funded projects following the example set by Sri Lanka to see if they were fair and in the interest of the country, Indian Express reported on Wednesday.
"We will learn from the experience of the Sri Lankan Ports Minister Arjuna Ranatunga in re-negotiating the deal over Chinese built Hambantota port," Nasheed has told select Colombo-based foreign correspondents on Wednesday.
Nasheed, who is leader of the Maldivian Democratic Party (MDP), said that when he or any opposition leader becomes President in the 2018 election, the Chinese projects will be re-examined.
But this is not going to be easy thing to do because 70 to 80 per cent of the Maldives' external debt is to China, he noted.
He is hoping to follow Sri Lankan Minister Ranatunga's "strategy" in renegotiating with the Chinese.
The Maldivian leader said that China is not transparent in its dealings and it prefers to work with authoritarian regimes being itself authoritarian. He also said that he will not say that China has no territorial interests in the Maldives.
Meanwhile, he said he hoped that President Abdulla Yameen would come for talks with him and the opposition.
"I want him to change. I am not for denying him his full term. In the Maldives nobody has been able to complete his term. We want to change the leader but in a constitutional and parliamentary way," Nasheed said.
"We are also keen on democratizing the structure first, before we change the head. We will use Parliament to set up an independent judiciary, an independent human rights commission," he added.
Asked if he would be the joint opposition candidate in the 2018 parliamentary election, Nasheed said that his expectation is that there may not be any need for it at that time. The political field will democratized so that every party can hope to win.
Nasheed said the international community is backing the opposition, some openly like the US, EU and Canada, but some support quietly, like India and Sri Lanka.