---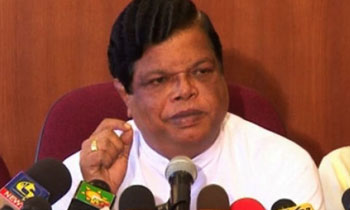 The joint opposition (JO) said today it would file legal action in the Supreme Court challenging the Active Liability Management Bill, which was presented to Parliament on Monday.
JO MP Bandula Gunawardana said the Bill violated the Constitution and basic human rights.
"The Bill permits the Prime Minister, who is in charge of the Central Bank (CB), to obtain a foreign or a domestic loan not exceeding 10 per cent of the unsettled loans of the previous fiscal year. If the unsettled loan amount is Rs.10 trillion, the Prime Minister will be able to obtain a loan of Rs.1 trillion. The CB bond scam had occurred when attempting to raise Rs.1 billion. The consequence of attempting to obtain Rs.1 trillion in this manner will be unfathomable," he told a news briefing.
The MP said the standard procedure of obtaining a loan was to go through the CB's Public Debt Department and that the new Bill also allowed for the previous years' appropriation bills to be disregarded.
"Appropriation Bills have been approved by Parliament with the two-thirds majority and the new Active Liability Management Bill allows the Prime Minister to obtain exorbitant loans by disregarding them," he said. (Lahiru Pothmulla)
Video by Sanjeewa