---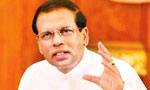 A well-planned programme for the promotion and propagation of Buddhism will be implemented next year as a priority, President Maitripala Sirisena said yesterday.
He said as a step towards making Sri Lanka a centre of Thravada Buddhism, several Dhamma publicity or 'pracharaka' programmes will be launched locally and abroad under the guidance and advice of the Maha Sangha including the Mahanayake Theras of the Tri Nikayas and other Nayake Theras.
The President gave this assuarance at a religious ceremony held at the Sri Aggarama Temple in Ambalangoda, Polwaththa where he offered the 'Sannasa' or the scroll appointing the most Ven. Nindane Vajiragnana Nayaka Thera as the Anu Nayake Thera of the Kalyanawansa Nikaya of the Amarapura Sect.
He also presented 'Vijinipatha' to the newly appointed Anu Nayake Thera at the ceremony.
President said the service of the educated, disciplined and erudite Bhikkhus was a vital requirement of the country and the Sasana.
He said the only way to rescue society from degradation and deterioration resulting from commercialisation was the Buddhist philosophy. The President said International Vesak Day would be marked on grand scale next year with the participation of the Heads of State of Buddhist countries.
The newly appointed Nayake Thera is the Chief Incumbent of the Ambalangoda, Polwaththa Sri Aggarama, Kobeithuduwa Siri Pashchimaramaya and Dorala Purwaramaya temples as well as the former Deputy Principal of Devananda College in Ambalangoda.
The Maha Sangha including, the chief prelate of the Sri Kalyanawansa Chapter the most Ven. Dodampahala Chandrasiri Nayake Thera, State Minister Lakshman Yapa Abeywardena, Southern Province Governor Hemakumara Nanayakkara, Chief Minister Shan Vijayalal De Silva, Ministers and MPs and many devotees participated in the event. (Sandun A Jayasekera)