---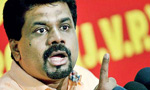 The Janatha Vimukthi Peramuna (JVP) said today it was totally opposed to the sale of some 15,000 acres of land in Hambantota to a Chinese company and warned it would not allow the government to go ahead with this sale.
"The government claims that the lands have been sold to set up an economic zone. Only 2,000 acres have been allocated for the 17 economic zones in the country and most of the lands allocated have not been used. The biggest economic zone in India, "Sri City India" is located on 7,000 acres. We must stop this sale of land," JVP leader Anura Kumara Dissanayake said.
He said they would launch a massive protest campaign in January next year against the government's destructive economic policy of selling State property to private companies and invited the people to join them in this struggle.
Mr. Dissanayake said the Government had planned to sell a large amount of land including Ports, graphite mines and mineral mines to private companies.
"The government has planned to sell the Hambantota Port to a Chinese company saying it was debt-ridden with no ships arriving at the port. How will ships come after it is sold to a private company? This is a Port which can be developed as a service port, which was a proposal made during the tenure of former president Chandrika Kumaratunge," he said.
Mr. Dissanayake said the government had invented a new concept known as PPP - Public-Private-Partnership" to continue the privatization of State resources.
"This is not the first time that a governmenthas thought that the country could be developed by sellingState resources," he said and warned that it would do its best to protect the Hambantota Port and ensure that all its employees would be absorbed into the Ports Authority.
"We will take to the streets to carry out our struggle. We will fight for the rights of the port employees. It is during the Mahinda Rajapaksa regime that these employees were recruited through a manpower company creating this controversial situation," he said.(Ajith Siriwardana)