---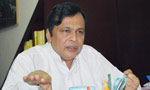 State Minister of Higher Education, Mohan Lal Grero today requested candidates applying for University entrance this year to do so online to avoid the long time taken to complete the formalities.
The State Minister said online applications would help the authorities to begin the academic year much earlier than when written applications were submitted.
"From 2017, we will accept applications online," he added.
The State Minister said he had discussed with the Education Department and the Examination Department to prepare the ground work to hold the GCE Advanced Level examination in April instead of August to provide sufficient time to the students to apply for university admission.
Meanwhile, he condemned ragging at universities and described it as a cancer. He also said parents of university students should also help eradicate ragging. (Kalathma Jayawardhane)