---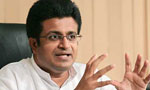 The Joint Opposition today requested the President, the Prime Minister and other Government leaders to set an example by tightening their belts to revive the economy, instead of instructing the people to do so.
Addressing a news conference, MP Udaya Gammanpila said the people were not ready to tighten the belt around their bellies, when the Government leaders loosening theirs.
Referring to the recent supplementary estimate submitted in Parliament, the MP said the Government had allocated Rs. 967 million for the privileges of the MPs.
He said that the Government had increased the VAT, pushing the people to difficulties, as a means of lifting the country from the financial crisis it has engulfed in today.
"Not only that, the Government had also published newspaper advertisements spending millions of rupees. The supplementary estimate, which was given to the MPs, starts from page 47. We have no idea as to what is the content of the first 46 pages and what had been allocated to the MPs. However, Rs. 967 million had been allocated to the MPs for the purchase of houses, vehicles, places of office, foreign tours and as other expenses through this," he said.
The MP said the late Indian Premier Indira Gandhi refrained from having dinner during a famine struck in 1972 setting a precedent. This move, he said helped increase the self confidence of the people to face the famine.
Mr. Gammanpila said in England, during the financial crisis of 2010, the Government introduced a policy called 'Simple State Service' curtailing extra expenses.
"Some of the MPs even used public transport system to save fuel. All the Ministers and even the Prime Minister travelled only in economic class, when flying. This is how the Governments should act when there are crisis. Then people will follow them spontaneously," he said. (Lahiru Pothmulla)
Video by Sanjeewa