---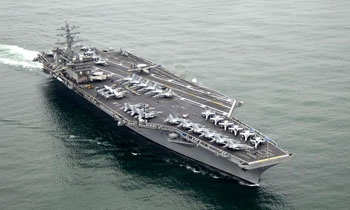 The Nimitz Carrier Strike Group is scheduled to arrive in Colombo, Sri Lanka for a planned port visit tomorrow (28), the US Embassy in Colombo said in a statement today.
It was reported that the Carrier Strike Group had included the USS Nimitz, the cruiser USS Princeton and destroyers USS Howard, USS Shoup, USS Pinckney and USS Kidd. It said that the ships were scheduled to depart Colombo on Tuesday (31).
"Reflecting the growing relationship between the U.S. and Sri Lankan navies, this is the first time an aircraft carrier has visited Sri Lanka since 1985, and follows the recent completion of the inaugural bilateral Cooperation Afloat Readiness and Training (CARAT) naval exercise," it said.
"Building our maritime partnership in step with Sri Lanka's own progress on reconciliation and human rights advances our shared national goals of fostering security and stability," said U.S. Ambassador to Sri Lanka and Maldives Atul Keshap.
"I'm delighted that U.S sailors will have the chance to visit Sri Lanka, meet with its wonderful people, and take part in public service activities at schools, hospitals, and rest homes that will improve the lives of Sri Lankans of all ages," he added.
The statement said the carrier strike group would add an estimated Rs. 1.54 billion ($10 million USD) to the Sri Lankan economy as the ships purchase supplies and thousands of U.S. sailors come ashore and support local businesses.
The USS Nimitz is more than 23 stories high from the keel to the top of the mast and is approximately 333 meters long. It can accommodate more than 5,000 personnel, with its kitchens providing more than 18,000 meals each day. It produces 1.5 million liters of fresh water daily and its two barber shops give 1,500 haircuts each week. The USS Nimitz's home port is in the state of Washington.