---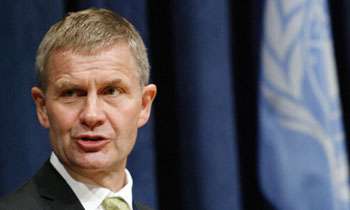 UN Environmental Programme (UNEP) Head Erik Solheim, former peace envoy to Sri Lanka, has been accused by UN internal auditors of over spending for his travel.
According to Aftenposten News, auditors found that 4.1 million Norwegian kroner (USD 490,000) had been spent on travelling for 529 days during his first 22 months in office.
The UN internal auditors have requested Solheim pay back part of the money he has spent on his trips. Many of these trips were allegedly made without sufficient documentation from Mr. Solheim.
On two occasions, the 63 year old switched to a more expensive airline, incurring an additional cost of almost 60,000 NOK, according to the auditors.
The issue came to light when a draft report by the UN's Office of Internal Oversight Services (OIOS) on the business travels of Erik Solheim and other senior UNEP staff was released.
The draft was presented to Solheim, who may now respond and put forward possible corrections. A new version will then be prepared at a later time. When the UNEP management responds again, the OIOS will publish the final report.
Solheim, who at the moment is participating in the climate summit in San Francisco, has not commented on the conclusions of the report, stating that it is just a draft document.
"We have responded and refuted a number of mistakes in this draft document. Based on our response the auditors will present a new draft. After we have commented on this draft, they will conclude their final report," he said.
Meanwhile, a Norwegian source, well acquainted with the UN system, said the UN's internal oversight services rarely changed the factual information or important recommendations made in the first draft.