---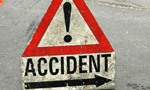 Two Police Constables attached to the Katana Police station had been killed when a motorcycle they were travelling on collided with a container parked beside in Katana on the Divulapitiya Road last night, the Police said.
The victims, Mahesh Chandradasa (28) and Vipula Munasinghe (46) were residents of Katuwana and Kaduwela respectively.
The Police said they were riding from Negambo and had collided with the container truck from behind outside the National Police Training Institute in Katana.
The injured Constables succumbed to their injuries after admitted to the Negambo Hospital.
The driver of the container has been arrested. (Ranjith Ferdinandez)