---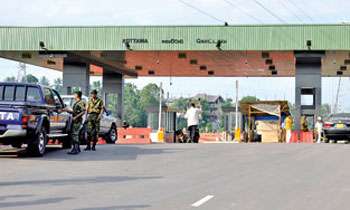 The condition of vehicles entering the Expressways will be strictly checked due to the recent spate of fatal accidents, the Director of Traffic Administration and Road Safety, SP Indika Hapugoda said.
He said the decision was taken following the recent death of an Australian mother and her daughter, injuring two other Australians, when their van crashed into a lorry near the 65 km post at Kurundugahahetekma on the Southern Expressway (E01).
"The accident had occurred due to driving with worn out tyres. Accidents bring traffic on the expressway to a standstill and it is very important to minimize accidents on the expressway by safe and disciplined driving," he said.
Therefore, the police officers attached to entrances at the expressways and exit posts have been instructed to check the condition of the vehicles, before entering the Expressway.
The condition of the tyres on vehicles, proper functioning of lights, dashboard indicators, brakes, steering system and seat belts for all passengers would be checked at the entrance point, SP Hapugoda said.
"Vehicles entering the expressways should be in good condition because there are no lamp posts on the Southern Expressway. Vehicles with poor headlights and tail lights will easily meet with accidents," SP Hapugoda said.
In case of emergency, people are requested to dial 1969 immediately to inform the nearest police post on the expressway, for a faster, safer and secured journey, and abide by the rules and regulation, SP Hapugoda said.
Meanwhile, the Southern Expressway Deputy Director R.A.D. Kahatapitiya said, the police had been instructed to check the vehicle conditions a few days back.
"There are lamp posts on the Colombo-Katunayaka Expressway (E03), but there aren't any on the Colombo-Matara expressway, except near bridges," Mr Kahatapitiya said.
Since the vehicles are driven at 100 kilometres per hour, a slight impact between vehicles or with a road barrier, sudden application of brakes or a turn may lead to secondary collision and the severity of damages in an expressway accident will be higher than in a normal road.
When you are trying to enter the Expressway, if you notice that there is no safe gap between the vehicles already on the expressway, keep in mind that you might need to stop the vehicle in the acceleration lane until you find a safe gap between vehicles, Mr. Kahatapitiya said. (Chaturanga Samarawickrama)