---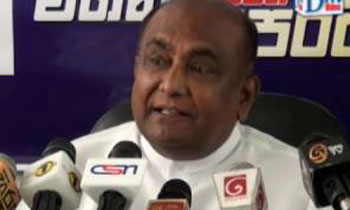 The joint opposition yesterday said the attempts made by them to join hands with the Sri Lanka Freedom Party (SLFP) in the upcoming elections had failed since several ministers were not ready give up their ministerial privileges.
Joint opposition member MP Mahinda Yapa Abeywardena told a news conference that they were basically a part of the SLFP and added that the ownership of the SLFP could not be determined on factors like its headquarters or designations.
"The place which implements the party's policy will be considered as the SLFP. The joint opposition will always stand by the SLFP's policy. But there is no space for SLFP in the government. They do not follow the SLFP policy" he added.
He said therefore the joint opposition could not fall in line with the present procedure. He also said that they did not have any other issue with this regard expect over matters related to the party's policy.
"Therefore, initially we invited the SLFP to join hands with us by leaving the government. Then we can take huge steps ahead together in politics. No minister agreed to the said decision since they were keen on protecting their ministerial perks and privileges. Therefore, nothing could be done us," he added.
While commenting on the special statement by Prime Minister Ranil Wickremesinghe which is scheduled to be presented today, MP Abeywardena said that Prime Minister Wickremesinghe could be regarded as the first Prime Minister who had made the highest number of blank statements in the Parliament's history.
He alleged even though the Prime Minister had made many special statements in Parliament, all of them were useless and added that they had only resulted in misleading people. (Kalathma Jayawardhane)