---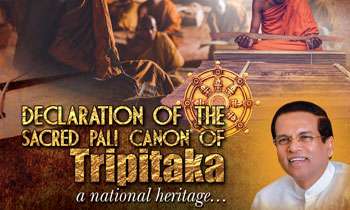 The declaration of 'Thripitakaya' (the sacred scripture of Buddhists) as a national heritage of Sri Lanka will be held tomorrow (05) at the'Aluvihara' Temple in Matale under the patronage of President Maithripala Sirisena.
The national ceremony connected to the event will be attended by 1,500 Bhikkus and thousands of lay devotees.
Secretary to the President, Udaya R. Seneviratne, said the declaration of 'Thripitakaya' was protected and practiced by Buddhist devotees and Bhikkus for 2,300 years as national heritage and was a historical, cultural, social and religious landmark of Sri Lanka because it contains the entire teachings, philosophy and how to reach the supreme bliss of Nibbana.
"The three main pitakayas of Theravada Buddhism, namely the Suthra, Vinaya and Abhidharma were chronicled at the third Sangayana (religious caucus) held in third BC following the arrival of Arahath Mahinda. Since then, Buddhism was treated as the religion of royals and citizen and got the state patronage for several centuries," Mr. Seveviratne said.
He added that the Thripitakaya, which was safeguarded, augmented and maintained by oral history or by word of mouth by Arahath and Bhikkus in Sri Lanka, was written in Ola Leaves in the first century BC, during the reign of King Walaganmbahu. The 'Sri Sathdharmaya' of Great Gautama Buddha,
'The Thripitakaya' which remained in Ola Leaves for several centuries, were printed as books in a project launched in 1956 in connection to the '2,500 Sambudha Jayanthi'.
Under the guidance of the most venerable Balangoda Ananda Maithri Nayaka Thera and most venerable Labugama Lankananda Nayaka Thera, the books were a government official publication, he pointed out.
The declaration of 'Thripitakaya' as a national heritage of Sri Lanka is a significant milestone not only in Sri Lanka but in the entire Buddhist world and that the Sri Lankan Government considers the protection and spreading of Thripitakaya as the principle teaching of Gautama Buddha as a national duty as well.
All activities related to Thripiyakaya such as reprinting, distribution etc. will be carried out by the Ministry of Budhasasana from here onwards," Mr. Seneviratne stressed. (Sandun A Jayasekera)