---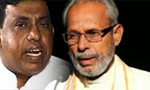 The Tamil National Alliance (TNA) and the Northern Provincial Council (NPC) had requested the government to reduce the power vested in the governors of the Provincial Councils.
"We wanted to reduce the powers vested with the governors because it is known that the governors have extreme powers as he was a representative of the Executive President", TNA MP M.K.Sivajilingam.
He said the TNA and the NPC had presented this proposal because the council members couldn't do anything without the approval of the governor.
He said this situation was equal to other Provincial Council as well
Meanwhile, NPC Chairman C.V.K. Sivagnanam said they had requested the Government to consider this proposal when amending the Constitution. "However, we have no objection of President appointing them," he said. (Romesh Madusanka)