---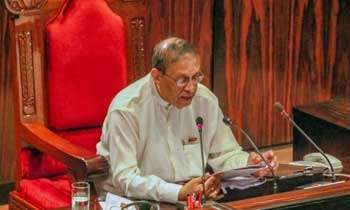 Speaker Karu Jayasuriya is expected to give a ruling on Friday on the appointment of a Select Committee to inquire whether the MPs including Opposition Leader Mahinda Rajapaksa, who obtained Sri Lanka Podu Jana Peramuna (SLPP) membership, can remain in Parliament.
Speaker told the House that he would give a ruling on this matter when Government MP Rauff Hakeem and TNA MP M.A. Sumanthiran requested that this matter be clarified.
This matter came up when House Leader Lakshman Kiriella asked whether those MPs who obtained the membership of the SLPP were entitled to remain as MPs in the House under Article 99(13) of the Constitution. "Under Article 99(13) of the Constitution, a member ceases to be an MP when he leaves the party from which he contested and joins another political party. A member is able to seek redress from court only if is expelled from the party he belongs to," he said. "There is no party called the UPFA as it is an alliance. The SLFP is a party which belongs to that alliance. Therefore when a member leaves the SLFP and joins another party which does not belong to the UPFA he will lose his seat."
Mr. Hakeem said the validity of the appointment of Mr. Rajapaksa as the Leader of Opposition and the MP posts of those who joined the SLPP must be clarified. "We request the Speaker to suspend the appointment of the Opposition Leader and appoint a Select Committee to look into the validity of the parliamentary membership of those who have defected to the SLPP.
Tamil National Alliance (TNA) member M.A. Sumanthiran also expressed similar views. (Yohan Perera and Ajith Siriwardana)