---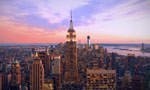 A Malaysian diplomat and his wife in New York, US had treated a Sri Lankan national virtually as a slave, making her work 15-plus hours a day for no more than $1.71 per hour, New York Post reported on Sunday.
The couple, Arasi Krishnan and Danish Kumar, forbade Parimaladevi Jeganathan from leaving their apartment and warned her that if she did, black people would do something to her, the Manhattan federal lawsuit claims.
"It was pretty clear that she was their servant. She wasn't allowed to leave the house except to sometimes accompany the family to church," said Anne Li, Jeganathan's lawyer.
Jeganathan started working for the couple in Malaysia in 2013. In March of that year, she arrived in the US on an A-3 visa granted to diplomats' relatives and household employees, court papers state.
The US State Department listed Krishnan as a consul at the Malaysian consulate on East 43rd Street.
Jeganathan believed that while working for the couple as a do-it-all domestic helper, she was monitored by their building's doorman and by Malaysian consulate security guards.
She was "fearful of venturing outside alone," the lawsuit says.
Early in 2014, Krishnan had told Jeganathan her visa had expired and it was too expensive to renew. Krishnan said that if Jeganathan didn't agree to work for her for another 3¹/₂ years, she'd be forced to return to war-ravaged Sri Lanka. "She was frightened and worried for her family," Li said.
Jeganathan, realizing her plight, contacted the FBI. Agents took her from the apartment on March 6, 2014.
Jeganathan now lives in the city in a "charity-funded safe house," said Li. The federal lawsuit accuses Krishnan and Kumar of violating laws designed to protect victims of human trafficking.
No criminal charges have been filed against the couple, who are back in Malaysia, Li said.