---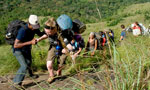 A study carried out by the Insurance search engine Bought by Many has revealed that Sri Lanka was the cheapest destination for backpackers for treatments in case of an injury, the Daily Mail reported on Sunday.
According to the study, which ranked 10 popular backpacking destinations according to their healthcare, the average cost for treatment is just 172 Sterling Pounds in Sri Lanka.
"Sri Lanka and New Zealand offer the most affordable treatment costs, while the average cost of treatment is highest in the USA, followed by India," the study said.
The countries the company analysed were the US, India, Peru, Vietnam, Thailand, Costa Rica, Nepal, Australia, New Zealand and Sri Lanka.
However, New Zealand, at just £2 more expensive than Sri Lanka, came out as the best value for money.
New Zealand has very high levels of quality of healthcare according to rankings by the World Health Organisation - making it the best value for money.
According to the infographic created by Bought by Many, the US is one of the most expensive places to get medical treatment in case of accident.
The average cost of treatments there is a staggering £1,044, which could blow an entire travel budget.
India is the second most expensive destination out of the 10 countries that's included. In India, the average cost of treatment is £844, or around nine times the average weekly spend for a backpacker travelling in the country.
Australia, at £236 for the average treatment, and Costa Rica, at £361 for the average treatment, came out at positions two and three respectively.
Meanwhile, expensive India is at the bottom of the top 10 with a quality of care rating of 112 out of 180.