---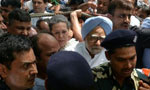 Members of the Congress party, including Congress vice-president Rahul Gandhi, party president Sonia Gandhi and former Prime Minister Manmohan Singh, were detained by the police today.
Party workers protested the arrest outside the Parliament Street Police station, climbing over police barricades.
The party had taken out a 'Loktantra Bachao March' (Save Democracy March) against the BJP government, starting from Jantar Mantar.
Before the march, the party leaders collectively slammed the Narendra Modi government, asking them where their promised 'Achhe Din' was and accusing them of "attacking democracy." (The Hindu)