---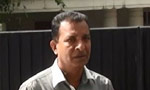 CSN Chairman Rohan Weliwita who had arrived in Singapore to attend the Broadcast Asia Exhibition had been deported by the country's Immigration and Emigration officials, the joint opposition said today.
It said Mr. Weliwita had left for Singapore on Tuesday and had been deported after three hours of interrogation.
"Court has permitted Mr. Weliwita to travel abroad. In such scenario there are reasons to suspect the presence of a hidden hand behind his deportation. He may take legal action in this regard," the joint opposition said.