---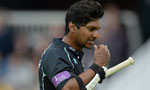 Kumar Sangakkara will return for Surrey next season after agreeing a new one-year contract, Mail Online reported.
The great Sri Lankan batsman will be back at The Oval at the age of 39, his club has announced.
A statement on the county's official Twitter account read: 'Surrey CCC are very pleased to announce that Kumar Sangakkara has signed a new one-year contract for the 2017 season.'
Sangakkara retired from international cricket with more than 28,000 runs across the formats, and a Test average of 57.40.
The 38-year-old featured in Surrey's heavy eight-wicket defeat in the Royal London One-Day Cup final to Warwickshire on Saturday.
Sangakkara managed to score 21 runs off 39 balls as Surrey ended up all out for 136.
Warwickshire cruised past Surrey's score after just 30.2 overs, with Jonathan Trott scoring 82 not out.