---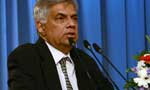 After the announcement of salaries and other allowances for chairmen and members of the independent commissions, Prime Minister Ranil Wickremesinghe said in Parliament today, the salary scales of MPs had to be talked about next.
However, he said the government would not talk about it at this hour.
"We are not talking about it now. We will move on to it next," he said.
Making his remarks on the motion for the provision of salaries and allowances for those serving in the independent commissions, he said the government set up these bodies in keeping with pledges made to the people at the election.
The members of the Joint Opposition started making catcalls while he was speaking. In response to them, he said those shouting had been alarmed today because the government established such commissions for good governance in the country.
He said there was no influence on the Judiciary today.
"Judges do not get telephone calls with orders today," he said.
Likewise, he said politicians could not interfere with appointments in the public service. (Kelum Bandara and Yohan Perera)