---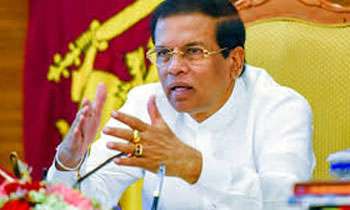 Making a firm statement yesterday, President Maithripala Sirisena said the SLFP has decided to contest the forthcoming election jointly with the Sri Lanka Podujana Permuna (SLPP) and warned that district and electoral organisers who obstructed this process would be removed from their positions.
Addressing an electoral organisers meeting at the President's residence, the President also warned organisers who offered to join and strengthen the government to do so after quitting the SLFP.
A group of SLFP organisers had objected to the President's proposal and demanded a sole SLFP programme.
They had expressed their displeasure to the party general secretary and some senior party organisers. Meanwhile, the party organisers meeting had come to an end before the scheduled time.
District and electoral organisers, executive committee members, provincial council chief ministers and provincial governors were among the participants.
Responding to inquiries, Party General Secretary Prof. Rohana Lashman Piyadasa said the President wanted to confine the number of electoral organisers to one per electorate.
Prof. Lakshman also said some managerial assignment would be entrusted to district organisers and new organisers will be appointed to vacant electorates. (Ranjan Kasthuri)