---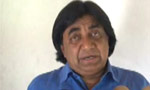 The SLFP will vote in favour of the VAT Bill, only if the amendments proposed by them are applied to the Bill which is being drafted at the moment, SLFP Media Spokesman Dilan Perera said.
Perera denied reports of an agreement with the government regarding the Bill and stated the story was fabricated.
The party will make a decision regarding the Bill after a discussion today.
Video by Palitha Ariyawansa