---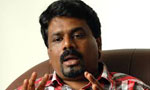 JVP leader Anura Kumara Dissanayake, who condemned the assault on Sri Lankan High Commissioner in Malaysia, said in Parliament that there was no nexus between offenders and the Sri Lankan Tamils in the north, and it should be understood.
Associating himself with the remarks by Prime Minister Ranil Wickremesinghe that the activists responsible for the assault were not Sri Lankans, Mr. Dissanayake said Tamil people in the north of Sri Lanka declined to heed extremism at the last Presidential Election.
The JVP leader, who is also the Chief Opposition Whip, said extremist forces asked Tamils in the north to boycott the election, but they defied it. He said those extremists outside the country exploited the issues of Tamil people in Sri Lanka for their political ends.
He said this incident could not be linked to the north.
"Northern Tamils are not a party to this incident. So, they should not be linked with it at any cost," he said. (Kelum Bandara and Yohan Perera)