---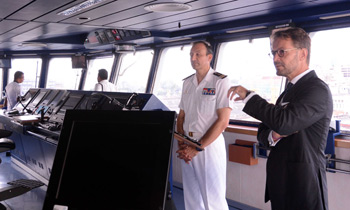 France has been closely following the developments taking place in the Sri Lankan ports, especially in Colombo because some french companies are also interested in making their presence here, French Ambassador Jean-Marin Schuh said yesterday.
He said this at a news briefing held on board the French helicopter carrier-Landing Helicopter Dock (LHD) Mistral which called on the Colombo Port as part of the Jeanne d' Arc mission of the French Navy.
When asked whether the French have any concerns over Chinese involvement in Sri Lankan ports, the Ambassador said his country was following the port developments in Hambantota and the East Terminal in Colombo.
He said France was always very careful, attentive and watchful as to the expressions of interest and the needs in terms of capabilities of the Sri Lankan forces. "We are following quite closely about the needs of the Sri Lankan navy as well," the Ambassador said.
Referring to the challenges visible in the Indian Ocean, he said human smuggling, narcotics, piracy and terrorism were the challenges faced by the regional countries including Sri Lanka.
LHM Mistral's Commanding Officer Captain Stanislas de Chargerès said they would organise joint exercises with the Sri Lankan Navy, focusing on anti-piracy and anti-narcotics missions, using the Special Forces of the French Navy.
This was the first time a helicopter carrier of the French Navy had visited Sri Lanka and it was also the first time a military ship of the Jeanne d' Arc mission did so. Frigate Courbet, the La Fayette-type ship also called on the Colombo Port accompanying the helicopter carrier.
Jeanne d' Arc is an amphibious battle mission which is built around the LHD Mistral and Frigate Courbet.
The mission aims at enhancing the naval relations among the French Navy and the navies of the visiting countries, and it also gives a better understanding to the French Navy to intervene into a crisis situation on the command of the President of France.
Also, the operational deployment is a practical training course in real-life conditions for 137 French and foreign midshipmen graduating from the French Naval Academy.
The LHD Mistral and Frigate Courbet sailed from Toulon, France on February 28 this year commencing the Jeanne d' Arc mission. It has so far visited Djibouti, India, China, Japan and Guam prior to calling on Colombo Port. The two ships will depart on July 26 for Djibouti again. (By Lahiru Pothmulla)