---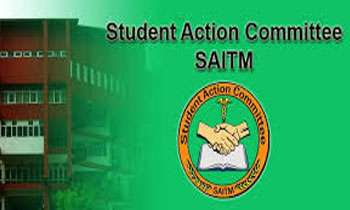 The SAITM Student Action Committee (SSAC) yesterday sought the immediate intervention of President Maithripala Sirisena with regard to the cancellation of students' scholarships granted by the SAITM.
While thanking the President for the decision he took to absorb SAITM students to the General Sir John Kotelawala Defence University (KDU), the students had also sought the President's attention over the higher course fees asked by the KDU.
In a letter to the President, the students had stated the they were informed by the KDU that all scholarships granted by the SAITM institute had been cancelled and they have to pay Rs. 1.3 million as annual course fee.
The students said they were depressed with the 9-year long SAITM controversy and were happy with the President's decision to absorb the students to the KDU however again were discouraged with this latest issue as the KDU rejected registering those who failed to pay before Monday (6).
The students said they have now facing a worst situation than then, as it was impossible to find such money without settling the loans already obtained to receive SAITM education.
They have stated in their letter that they had to sell or mortgage their land or any other valuables to receive education at the SAITM.
"We were surprised when they rejected us who were having remarkable examination results. We kept hopes for years and received our education at SAITM on scholarship basis as we had financial difficulties. We kindly request the President to intervene on the matter and serve us justice," the students said. (Thilanka Kanakarathna)