---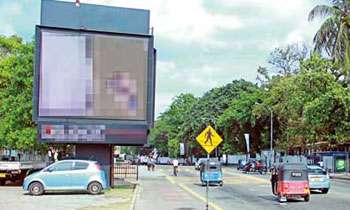 Following the beautification projects of the roads surrounding the Parliament complex, the Urban Development Authority has directed that all billboards erected along Parliament road within 30 days with effect from Sunday (7), UDA Director General Sumedha Rathnayake said.
Speaking to the Daily Mirror Mr Rathnayake said billboards and hoardings along the road reservations, within building limits, canal reservation and on buildings and facing access ways should be removed as it is considered to be a part of the city beautification programme.
"The UDA had informed relevant authorities and respective institutions to withdraw such billboards, which had been erected. The UDA has also asked the clients, who were issued with permits to erect such hoardings, to remove them within thirty days."
Accordingly, hoardings are to be removed from Borella up to Parliament (Kollupitiya-Sri Jayawardanapura route), parallel roadway to Parliament esplanade, Cotta Road, Japan Friendship Road up to the Kimbulawala Junction, Sunil Mawatha (Parliament access way), Thalawathugoda-Pitakotte Road up to the Kimbulawala Junction, Denzil Kobbekaduwa Mawatha from Polduwa Junction up to the Battaramulla Junction (Kotte-Bope Road) and Road from the Battaramulla Junction up to Palamthuna (Battaramulla-Pannipitiya Road).
The notice was published in several newspapers.
"We had discussions with the Colombo Urban Council and it also agreed. Therefore as declared we will proceed with the move. All advertisement boards facing the ceremonial roads would be removed. A guideline would be given to specify which kind of advertisement would be acceptable to display and where," he said.
"The issue cropped up because of a hoarding at the Polduwa roundabout near a statue," he said. (Chaturanga Samarawickrama)