---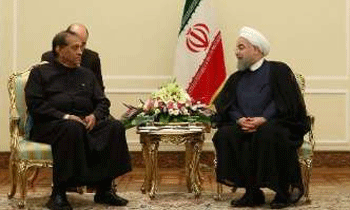 Iranian President Hassan Rouhani has said that Iran is prepared to render technical and engineering services to Sri Lanka, the IRNA reported today.
He has made the remarks in a meeting with Speaker Karu Jayasuriya who arrived in Tehran on Saturday to attend Rouhani's oath-taking ceremony on August 5.
"Iran-Sri Lanka ties have always been friendly and excellent and removal of sanctions today has created good opportunities for promoting mutual cooperation which should be used optimally in line with boosting bilateral ties," he said.
He further noted that Sri Lankan official's visit can give a fresh impetus to parliamentary relations.
Stressing the need for developing cooperation between the two countries' private sectors, President Rouhani said that Iran is ready to meet the needs of Sri Lanka in the field of technical and engineering services.
While appreciating Iran's hospitality, Speaker Jayasuriya congratulated Rouhani's re-election, recalling the two countries' long-standing historical and cultural ties.
"People of Sri Lanka have a great respect to the Iranian nation," he said.
Appreciating Iran's support to the country in various fields, he called for Iranian private sector's presence in Sri Lankan infrastructural projects.