---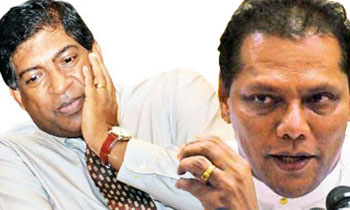 Sports Minister Dayasiri Jayasekara said yesterday Foreign Affairs Minister Ravi Karunanayake should resign until the Bond Commission's probe was completed and that he would support a no-faith motion if brought against Minister Karunanayake.
"The charges levelled against Minister Karunanayake were of grave nature and could amount to money laundering based on the evidence given at the Presidential Commission of Inquiry into Bond Issuance," he said.
"If Ravi is a gentleman, he should step down until the probe is over or he cleared from charges. This is a blow to the Yahapalanaya. Therefore, if there is a no-faith motion against him, I will support it," Minister Jayasekara said.
He said former Law and Order Minister Thilak Marapana resigned from the portfolio as a gentleman when there was criticism over his involvement with the Avant-Garde issue. "But the charges against Ravi are far worse," he said.
Referring to the allegations made against former President Mahinda Rajapaksa, the minister said minister Karunanayake was in the forefront of those who made allegations against him.
"Investigations against Rajapaksas are ongoing. In the meantime, as members of Yahapalanaya, we should be careful not to repeat mistakes of the former regime," he said. (Lahiru Pothmulla)