---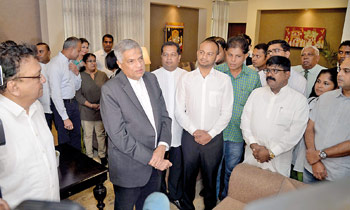 Prime Minister Ranil Wickremesinghe is to go on an inspection tour to areas hit by floods and landslides, sources said today.
Premier Wickremesinghe who arrived from the USA on Saturday had informed Ministers and MPs who gathered at the Bandaranaike International Airport to welcome him, he intended going on an inspection tour to disaster-hit areas shortly to see what could be done to avoid such disasters in the future and to check on the reconstruction process.
This comes in the wake of suggestions that new reservoirs and dams should be constructed in Galle, Ratnapura and Kalutara Districts as a long term measure to prevent floods and to remove people permanently from the landslide vulnerable areas.
Mr. Wickremesinghe who shared his experience on the medical checkup he underwent in the USA had told the Ministers and MPs that he got an idea of constructing more specialised hospitals.
"The Prime Minister told us that he intended developing the specialised hospitals for various diseases as in the case of USA," one Minister who had gone to the airport to welcome him said.
The Minster said that the UN Secretary General Antonio Guterress and other dignitaries, whom the Premier Wickremesinghe had met in New York had expressed their satisfaction on the progress Sri Lanka had made on restoring democracy and reconciliation. (Yohan Perera)