---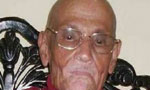 Ramanna Nikaya Mahanayake Ven. Napana Premasiri Thera requested President Maithripala Sirisena to provide former president Mahinda Rajapaksa with military security as provided earlier.
Ven. Premasiri Thera said in a letter to the President that the attempts to divide the country had not been completely eliminated and no assurance could be given that there was no threat to Mr. Rajapaksa's life.
The Thera said everyone including Buddhist monks commended Mr. Rajapaksa for his actions to end the three-decade war and added that neither the terrorists nor certain international leaders were happy with the steps he had taken to end the war.