---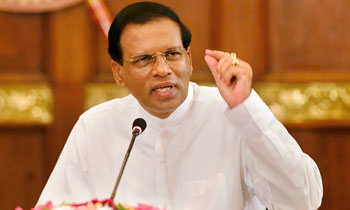 President Maithripala Sirisena today shot down the budgetary proposal to reduce the tax on beer, saying it was contrary to the policy of his government. However, he hailed the overall budget saying it was development–oriented.
He said no one could agree with the granting of tax concessions to beer.
"No one can agree with the granting of tax concessions to any type of liquor because the policy of this government is to minimise the consumption of liquor and minimise the smoking habit," the President said at the committee stage debate on the budget.
He said foreign cigarettes could not be permitted into the country. "No other country in the world allows it," the President said but however, lauded the budget proposals as a whole saying they are development-oriented. "Enhancing and enriching spiritual values of the people is as important as as improving economic indicators such as the per capita income. Similarly maintaining the free health and free education system is important. The Buddha said this when he preached that health is the most valuable resource one could possess. Therefore it is important that we continue with the welfare facilities essentially for the poor."
He stressed the need to allow the ministers to work independently. "I have allowed the Health Minister to work independently as I think it is important. I recall how I suffered mentally during my tenure as the minister of health. I had to face several obstacles when I made an effort to introduce a national health policy," the President said.
He pledged to enhance the facilities provided to kidney patients as pledged during the presidential election. "I pledged to use the funds allocated for my posters for a fund for kidney patients and that was done. It is now converted into a national fund for kidney patients. We will open the first kidney hospital in Pollonaruwa shortly. This has been constructed with a US$12 billion grant from the Chinese government," the President said. (Yohan Perera and Ajith Siriwardana)