---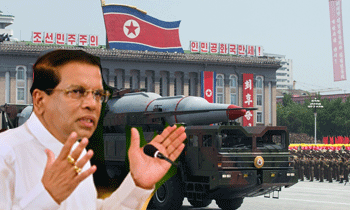 President Maithripala Sirisena has called for an investigation into a statement issued by the Foreign Affairs Ministry condemning the firing of an intercontinental ballistic missile by North Korea.
Co-Cabinet Spokesman and Sports Minister Dayasiri Jayasekara said neither the President nor Prime Minister Ranil Wickremesinghe knew about the statement.
"Even Foreign Affairs Minister Ravi Karunanayake didn't know about this. As such the President called for an inquiry at the Cabinet meeting," the Sports Minister said today.
The statement issued by the Ministry said 'Sri Lanka condemns hostile acts by North Korea which threatens international peace and security.'
It said "The Government of Sri Lanka condemns the firing of a ballistic missile of intercontinental range by the Democratic People's Republic of Korea (DPRK) on 28 July 2017, and the series of recent similar hostile acts by DPRK in violation of UN Security Council Resolutions.
DPRK's continued pursuit of nuclear and ballistic missile programmes and proliferation related activity pose a significant threat to international peace and security.
In the interest of peace and security of all concerned, we urge the DPRK to refrain from such hostile acts and programmes, in violation of UN Security Council Resolutions, which impact adversely on the stability of the region and beyond.
The international community must unite in words and deeds to seek solutions to this grave situation which is an ever increasing threat to international peace and security,"