---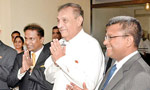 The joint opposition yesterday demanded the resignation of Parliament Secretary General Dammika Dassanayake over the confusion caused during the voting on the supplementary estimate on Thursday.
Joint opposition MP Wimal Weerawansa told a media briefing held at the parliamentary complex yesterday that the SG should resign his post as the MPs had lost their confidence in him.
"The Secretary General has purposely manipulated the result of the voting and we cannot expect a clean voting on Bills and Motions on the future if he continues in his post," he said. and added that the people must push for the SG's resignation.
Mr. Weerawansa said the Secretary General should prove that he was a gentleman by resigning from his post.
MP Dinesh Gunawardane said history had been created as it was the first time that the voting had been manipulated in Parliament. "Parliamentary unions in the world have inquired from us about this situation and the country's image has been tarnished," he said.
Mr Gunwardene said a fresh vote can be called through a special motion as per the standing orders.
He said the Government and the Finance Minister should resign as a proposal pertaining to a Financial Bill had failed to get through Parliament. (Yohan Perera)