---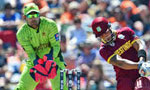 Pakistan are planning to shift out of their 'home' in the United Arab Emirates for the series against West Indies later this year, and Sri Lanka has emerged as the No. 1 option.
Pakistan are scheduled to host West Indies for two Tests, five One-Internationals and two Twenty20 Internationals in October this year, but the Pakistan Cricket Board (PCB) are reluctant to use the UAE as their home because of expense-related concerns. "PCB is not generating enough revenue from its home series, therefore we are looking at the option of hosting West Indies in Sri Lanka. The board is doing its homework in this regard," Najam Sethi, the PCB Executive Committee Chairman, told the BBC.
The PCB has, in the past, used Sri Lanka as a home venue when they hosted Australia for one Test in Colombo in 2002, a match Australia won by 41 runs. The other two Tests of that series were played in Sharjah.
"We need to see whether the grounds will be available in the island nation and also if the weather will suit us," said Sethi. As such, Australia are the only team set to tour Sri Lanka this year – in July-August – and Sri Lanka are then scheduled to travel to Zimbabwe, leaving their home grounds free of international commitments.
If the series is held in Sri Lanka, it remains to be seen whether it includes the day-night Test the PCB had proposed to the West Indies Cricket Board.
If the West Indies series moves to Sri Lanka, the only chance for the fans in the UAE to see Pakistan players will come in the Pakistan Super League, tentatively scheduled for February next year. However, even at the PSL, the final could be held in Lahore, with the PCB planning to offer players more money as an incentive.
"We want to have final of the next PSL in Pakistan and we will propose it to the players. We'll ask them if they can play the final in Lahore," said Sethi, who is also the chairman of the PSL. "PCB is ready if the players want more lucrative deals to play in Lahore."(Wisden India)