---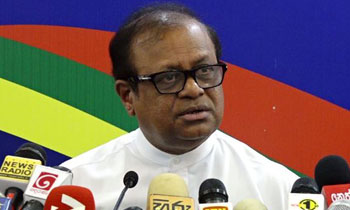 Science, Technology and Research Minister Susil Premajayantha yesterday said he was disappointed with certain activities of the government and that even SLFP leaders did not accept his ideas.
Addressing the media at the SLFP Head Quarters, the minister said the United National Party did not accept the ideas of the Sri Lanka Freedom Party (SLFP)
He also said some have come to power with the intention of selling state resources but the SLFP would not do so.
"There was a practice of selling state properties during the previous United National Party (UNP) governments. Since then the Sirimavo Bandaranaike SLFP government had taken back state institutions which were under Western rule," he said.
The Minister alleged: "The UNPers in the past while in power sold state properties and its still repeating same". Recently, the government had sold 80% of the Hambantota Port to the Chinese firm. Without selling the Port we should have a plan of proper management. For that we have the relevant people and resource persons.
"What happens is that policy makers are not listening to the advise of professionals in the country. That was the problem of drawing the government to sell its property. There should be a proper plan to provide jobs to 10 million youth as what the government promised ," Minister Premajayantha said.
"Every commercial enterprise has a business plan. First of all the government has to think whether they are capable of managing the State institution . If the plan was not applicable, the government should implement another plan. Without thinking of any business plans, I think this government had come to power with an idea of selling its properties," he said.
"The whole world is moving to different paths with the development of new technology. Without drawing the country according to the requirement of the fast movement, there was no point of handing over or selling state organizations to some other countries. That shows where we are heading to ," he said.
After the Hambantota Port, there is a possibility of selling the SriLankan Airlines, like wise even the Katchatheevu island, the Minister said. (Chaturanga Pradeep)
Video by Janaka