---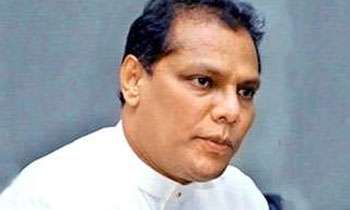 Opposition today charged that two MPs namely M. A. Sumanthiran and Jayampathi Wickramaratne had carried out a conspiracy to prepare the draft for a new Constitution without engaging the Expert Panel, which had been appointed to do so.
Opposition MP Dayasiri Jayasekera, who raised the matter in Parliament this morning, said it was revealed at the Constitutional Assembly Steering Committee meeting last Wednesday that a draft of the new Constitution has been prepared by two MPs, namely M. A Sumanthiran and Jayampathi Wickramaratne together with another member of the expert panel Suren Fernando and had got the other members to sign it.
He said only four members have placed their signatures on it.
"This draft has proposed that provisions should be provided for the Prime Minister, the Speaker and the Leader of Opposition to remove President. This is a dangerous move," Mr Jayasekera said.
Joint Opposition MP Mahindananda Aluthgamage said one of the four members, who had placed his signature to the draft, had not visited Sri Lanka for the last six months.
"One signature placed on the draft is a forged one," he said.
Chief Opposition Whip Anura Kumara Dissanayake, also confirmed the issue and said what was presented to the Steering Committee was a paper for discussion.
However, he said it was re-referred to the Expert Panel in order to be amended.
"The paper was rejected as it has been prepared by two or three individuals," he said.
Joint Opposition Parliamentary Group Leader Dinesh Gunawardane said even the Prime Minister has not been aware of this move.
"Prime Minister Ranil Wickremesinghe was also not aware of this move and therefore he too had to agree to reject the paper," Mr Gunawardane said.
He said this is a move to convert Sri Lanka into a Federal State.
Minister Kabir Hashim and Gayantha Karunathilaka said there was no issue as the draft paper would be amended and would be prepared once again.
Speaker Karu Jayasuriya said he would discuss the matter with the Prime Minister. (Yohan Perera and Ajith Siriwardana)