---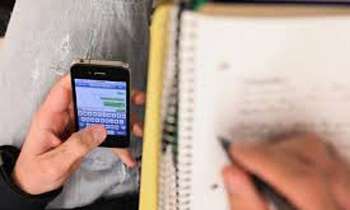 An external Ordinary Level examination candidate and an invigilator had been arrested for allegedly using a mobile phone to answer the English question paper in a school in Balangoda, Police said.
They said the candidate had kept his mobile phone and answered the English Language paper yesterday.
The invigilator, who was on duty at another exam centre, had sent the answers to the candidate over the phone, according to the Police.
The candidate was arrested following a complaint to the Balangoda Police by the Balangoda Zonal Education Director.
The suspect was taken to the Balangoda Police and during questioning details of the teacher who sent the answers via SMS was revealed.
The case was reported from the Jeilani Central College, Balangoda.
When contacted the Balangoda Zonal Education Director P.G. Ariyapala said that the hall supervisor had lodged a complaint with him about the incident.
"The invigilator claimed that the candidate had come to the examination hall 20 minutes late.
"Answering of the English paper started at 8.30 a.m, but the candidate came to the hall at 8.50 a.m.
"The invigilator did instruct the candidate to keep irrelevant belongings out of the examination hall.
"However despite his instructions using the delay as a pretext the candidate had gone to his table without leaving his belongings outside the hall.
"Later, when the examination was in progress, the invigilator had heard the vibration sound of a phone and he informed the hall supervisor.
"When the Supervisor had taken the mobile phone, the supervisor had noted that the answers were coming to the phone continuously as SMS messages," he said.
"Then he gave the phone again to the candidate and let him write the answers. But he informed the zonal education director and the Department lodged a complaint with the Balangoda Police.
"A team of Police officers had gone to the hall and the candidate was taken into custody alone with the phone.
"During questioning, the suspect revealed the answers had come from an exam invigilator from another examination hall in Balangoda," Mr Ariyapala said.
The Balangoda Police are conducting investigations.
Mr Ariyapala said relevant action would be taken by the Examinations Department after Police investigations.
The candidate was an Advance Level student, Mr Ariyapala said. (Chaturanga Samarawickrama)