---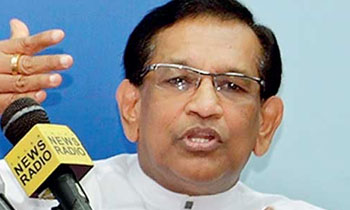 The Health Ministry has suspended kidney transplants in Sri Lanka with kidneys obtained from foreigners and also requests private hospitals not to charge any fee from those who come forward to donate organs or pay for their organs, Health Minister Dr. Rajitha Senaratne said.
The Minister added that these decisions were taken following the controversy surrounding the selling of kidneys by Indians for kidney transplant surgeries conducted in a private hospital in Sri Lanka in the recent past.
Addressing a ceremony held before the start of a 'Walk to Promote Donation of Human Organs' organized by the Sri Jayewardenepura Teaching Hospital (SJTH), Minister Senaratne said he would declare a relief package for donors of human organs and life long treatment package for them from the government hospitals.
"I am glad to observe that Sri Lanka has shown a steady progress in human organ transplants. The dedicated and highly professional surgeons in our country have successfully transplanted livers, kidneys, hearts and other organs with limited facilities. If our doctors have similar facilities found in US, UK, Japan or Singapore, I have no doubt that they would do a better job second to none. I have decided to provide all modern medical equipment, drugs and other facilities to bring human organ transplants in Sri Lanka to the level of any developed country," Minister Senaratne stressed.
Minister Senaratne said he had instructed Director General, Health Services Dr. Anil Jasinghe to study the organ transplant policy in Singapore and to see whether Sri Lanka could use it as a guide to prepare a National Organ Transplant Policy (NOTP) for Sri Lanka. If and when a NOTP was enacted the ban on performing organ transplants using organs from foreign donors would be lifted.
Minister Senaratne lamented that the first ever heart transplant surgery performed at the Peradeniya Teaching Hospital (PTH) in July 2017 was a complete success but the second heart transplant surgery was unsuccessful due to a tug of war between two groups of surgeons and added that compassion, love and dedication were vital qualities a doctor must be rich with if his or her treatment heals a patient.
Organ transplants were performed in Sri Lanka at the moment at the Colombo National Hospital, SJTH, PTH, Karapitya Teaching Hospital, Kandy General Hospital and Anuradhapura Teaching Hospital. Several other leading hospitals will be equipped shortly to perform transplant surgeries shortly, he said and appealed doctors not to disrupt it for their benefit. (Sandun A Jayasekera)