---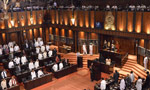 The Parliamentary Affairs Committee had today observed that there was no basis for bringing in a No-Confidence Motion (NCM) against the Secretary General of Parliament.
A No-Confidence Motion signed by 32 MPs of the joint opposition against the Secretary General was handed over to Speaker on Tuesday.
The joint opposition charged that the voting result of the Supplementary Estimate was questionable and the Secretary should take the responsibility.