---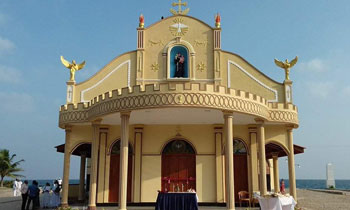 Though more than 5,000 pilgrims from India had been scheduled to attend St. Anthony's Feast of Kachchathivu islet this year, none attended it, the Navy said today.
Navy Spokesman Chandima Walakuluge said around 9,000 devotees from both India and Sri Lanka were expected to take part in this year's Kachchathivu Feast. However, only local pilgrims attended the festival that was held on March 11 and 12.
The Indian media reported that as fallout of a tragedy, where an Indian fisherman was killed and another injured in a shooting, the Rameshwaram fishermen had decided to boycott the annual feast in Kachchathivu.
They said hundreds of fishermen and families continued their sit-in protest against the death of 20-year-old K. Bristo, allegedly in the Sri Lanka Navy shooting, hardening their stance on day three of the agitation by announcing that they would not give up unless the Indian Foreign Secretary S. Jaishankar personally guaranteed their demands.
The annual Kachchathivu feast is held in February or March, and is attended usually by a large number of Indian as well as Sri Lankan devotees.
Last year over 5,000 pilgrims from India visited the shrine..(Darshana Sanjeewa)
Video by Romesh Madushanka