---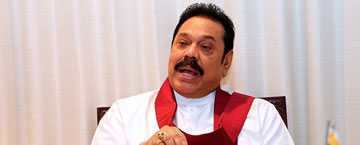 As Karunawathie does not possess any Karunawa, Maithri also does not show any Maithri, said former President Mahinda Rajapaksa, speaking at a propaganda meeting held on Thursday in Dambulla.
He said though the President bears the name Maithri, he is not acting in accordance with his name but keeps expressing hate. He cautioned President Maithripala Sirisena not to be so aggressive when addressing political meetings in anger because it might make him sick. This meeting was held at the Dambulla Gam Udawa Sports Grounds in the presence of former minister Janaka Bandara Tennekoon and former minister Pramitha Bandara Tennekoon. Large crowds were present at this propaganda meeting.
The former president charged that Maithripala betrayed the policies of the SLFP and attempted to take credit for the Moragahakanda Scheme where 75% of the work had been completed under his government.
"Seeing the large crowds, our leaders would start blaming me but I am ever grateful to the President and the Prime Minister for promoting me and giving all this publicity," he said. (K. K. Ariyadasa)