---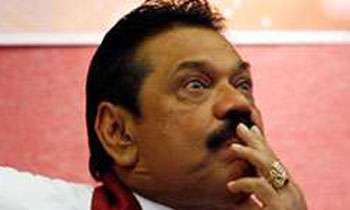 Former president Mahinda Rajapaksa, who was appointed as prime minister by President Maithripala Sirisena on October 26, has decided to resign from the premiership tomorrow after making a special statement, UPFA MP Lakshman Yapa Abeywardena said today.
Speaking to Daily Mirror, he said Mr. Rajapaksa had informed the President that he would not want to drag the country into further chaos.
"President can't appoint a prime minister until January 2019. Therefore, Mr. Rajapaksa is of the opinion that the country could not go forward with this political turmoil and anarchy," MP Lakshman Yapa said.
"However, Mr. Rajapaksa has asked the President to appoint the Cabinet and even a new Prime Minister at his discretion," MP Lakshman Yapa added.
He said they would give whatever support to the President if required in the future.
Meanwhile, MP Namal Rajapaksa tweeted that "To ensure stability of the nation, former president @PresRajapaksa has decided to resign from the premiership today after an address to the nation. The SLPP with Frm President, SLFP & others will now work to form a broader political coalition with President Sirisena," (Sheain Fernandopulle)