---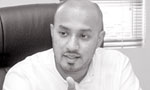 Sri Lanka Freedom Party (SLFP) General Secretary Minister Duminda Dissanayake said the SLFP, expects former President Mahinda Rajapaksa, will cooperate with the party rather than seeking office at future elections.
In an interview with the Daily Mirror, the Minister said the party will be reorganised further in the event of its Convention.
"We are in the process of reorganising and restructuring the party to propel it to new heights in politics. We do it by appointing new organisers when and where necessary," he said.
Q: The Convention was boycotted by the SLFP MPs sitting in the Joint Opposition which is the faction loyal to former President Mahinda Rajapaksa. Is the party contemplating action against them?
It is not needed actually. I think the rank and file of the party sent a message to them. If you look at the mammoth crowd at the Convention in Kurunegala, it will be easy to determine whether party people stand. They understand where people's heart lies. It remains with the party, not with a group. The Joint Opposition members can well learn a lesson from this.
Q: Is a SLFP-led government possible without the support of former President Mahinda Rajapaksa who is popular among the rank and file of the party?
We hope he will support the formation of a SLFP government. Mr. Rajapaksa cannot contest the next Presidential Election due to constitutional bars for it. Also, he does not stand the chance for becoming the next Prime Minister within the remaining period. He has held all positions starting from the MP post to presidency. He has been the party chairman. He is well aware that he has passed his time now.
Since he knows he cannot take over power again, we believe he will cooperate with the party to gain power. He will use his popularity to ensure victory for the party. That is the only option. If he cannot win, he should work for the party's victory at least. (Kelum Bandara)