---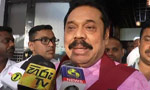 The country should be governed either by President Maithripala Sirisena or Prime Minister Ranil Wickremesinghe without contradicting each other, Former President and Kurunegala MP Mahinda Rajapaksa said today.
He said this while speaking to the media at the launch of a book by author Edward Chandrasiri at the Public Library, Colombo.
He said the President, the Prime Minister and the Cabinet of Ministers were making contradictory statements on issues relating to the country and that showed the coalition government had no plan for the country.
He said the United National Party (UNP) and the Sri Lanka Freedom Party (SLFP) had joined together only to share power and not to work for the nation.
While warning that the country is being dragged towards a very dangerous situation, MP Rajapaksa said he would never support a government that kneels before the international community.
He also rejected media reports that spoke of an agreement that was entered into between the UNP and the Joint Opposition.
Commenting on yesterday's arrest and questioning of former Defence Minister late Anuruddha Ratwatte's son Chanuka Ratwatte and MP Wimal Weerawansa respectively, Mr. Rajapaksa said he had confidence that the two had done nothing wrong. (Piyumi Fonseka)
Video by Buddhi