---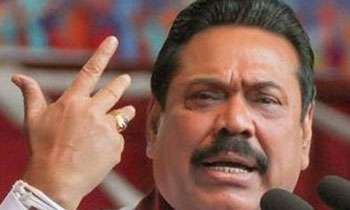 Former president Mahinda Rajapaksa said yesterday that the President should now pullout the SLFP prop that is supporting the government.
He said the UNP could not run the government alone and added that the government was sustaining because of the SLFP support.
"This government is running due to the SLFP prop. It is time to pullout that prop. We all say that time has come for the President to pullout that prop," he said during the opening of the Mahinda Rajapaksa Public Library in Ganemulla, Gampaha.
He said the government claimed that the rupee depreciated against the US dollar due to the loans obtained during his time and the decisions taken by US President Donald Trump.
"There was a time when the dollar was strengthened. When the economies of other countries including Asia were collapsing, Sri Lanka stood steady," he said.