---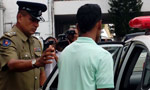 The youth from Bandagiriya, who went missing while in the custody of the Hambantota Police and found later in a temple, has not been psychically harmed, a Judicial Medical Officer (JMO) said after examining him.

Matara General Hospital JMO Dr. K.A.P. Gunawardene confirmed that there were no signs of assault or any debility.

G.G. Gayashan who was brought under high police security from Colombo to the ASPs office in Hambantota on Thursday night, was interrogated from 9.00 p.m. to 2.00 am today In his statement he said he was brought to the Hambantota Police Headquarters on the 6th and was held there with another two suspects. He said he needed to answer a call of nature and taken to the toilet escorted by a police officer.

Gayashan said when he came out of the toilet he had not seen the police officer nearby and seized the opportunity to escape from the police station. He had boarded a bus and gone to his sister's house in Weeraketiya.

The Hambantota Police had arrested Gayashan and two others on charges of stealing paddy from a warehouse in Bandagiriya.

Police said the information conveyed to the media by the youth's family was false and baseless.

The family members told the media stating that the youth might have died after being attacked by the police and while investigations were intensified the Hambantota police HQI and three other police personnel were transferred to facilitate the ongoing inquiry.

The youth had visited the Deegawalukaramaya in Dickwella and accompanied by the Ven. Ambakolawewa Buddhika Thera had visited the Police Headquarters in Colombo.
The Police later produced him before the Hambantota Chief Magistrate and District Judge Manjula Karunaratne today at 2.30 am and remanded. (Sanath Gamage and Chandrasena Gamage)
Video by Roshan Gunasekera