---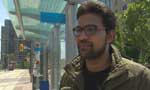 Toronto police are investigating after a Sri Lankan man said he was followed by two men on his way home from a night shift Sunday morning and had assaulted him inside Union Station in Toronto, Canada CBC News reported on Sunday.
A new permanent resident, Suresh Ommi had immigrated to Canada via India and has been in Toronto for only one month.
According to Ommi, he was waiting at a streetcar stop on Queens Quay on Sunday when he saw two men on bikes watching him intently from across the road.
"They just stopped at that point exactly, that point opposite to me. One guy made a hand gesture, something like a handgun, and he wants to like shoot me," Ommi told CBC News.
He said he tried not to pay them any attention but then one of them eventually approached him.
"He came towards me, he got off the bike and came right in front of my face and he said, 'You … Sri Lankan, go back to your country.'"
Ommi said the man, who he estimates to be around 20 years old, followed his streetcar to the Union Station.
"I was going to the TTC staff for help and he kicked me in the back. This is something I never expected. Canada is one of the safest countries in the whole world. I never expected this kind of racial slur," he continued.
Toronto police has told CBC News they are investigating the alleged assault and will be looking to review any surveillance footage that may have captured it.
"These allegations, especially when there's a racially motivated slant to it, we definitely take them very seriously. It would be investigated thoroughly either way, but we do tend to give extra priority to this because it was possibly racially motivated," police said.