---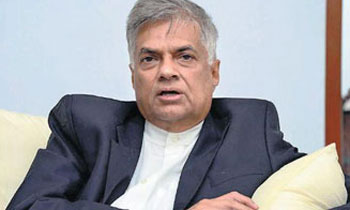 Prime Minister Ranil Wickremesinghe told the UNP candidates contesting for the February 10 local government election that this poll is of importance for the government if it is to return to power in the year 2020.
The Prime Minister had come up with these sentiments while addressing the candidates at UNP Headquarters in Sirikotha last morning. A candidate who attended the meeting which was held by the Prime Minister said the latter stressed the importance of winning the local government poll citing that a victory will help the present government to return to power.
"He told us to work hard and win the elections while stressing that a victory for the government at the local government is important if it is to return to power in 2020," this candidate said.
Also he said the Prime Minister informed them that the intention of the government is to allow the local government bodies to play a role in development.
Meanwhile, Minister Finance Mangala Samaraweera who had also spoken during the meeting had said the completion of the investigation of the bond issue is a victory for the government. "It was this government which appointed the commission to look into the bond issue and the completion of it is a victory for the government," Mr Samaraweera has said.
"This government did not influence the investigation," he has also said. (Yohan Perera)