---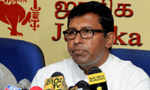 The Jathika Hela Urumaya (JHU) said yesterday that while they had expressed their condolences over the death of former Tamil Nadu Chief Minister J Jayalalithaa her death was a great relief to Sri Lanka.
JHU national organizer Nishantha Sri Warnasinghe pointed out that the late chief minister was an anti-Sri Lankan leader who harassed Sri Lankans in India and always acted contrary to the interests of our country.
"She harassed our Buddhists monks, players, businessmen and those who went on pilgrimage to Tamil Nadu. She also fought to take over the Katchchativu Island and instigate separatism in the in the North and East for her petty political gains.
Mr. Warnasinghe said the defeat of Hillary Clinton was also a happy moment for Sri Lanka as she also had an ulterior motive with regards to Sri Lanka. "Secretary Clinton said that an economic embargo should be imposed on Sri Lanka and that war crimes allegedly committed by us should also be investigated fully. Therefore it is a good time that has dawned for the country internationally," he said.
He said he expected that the new Tamil Nadu Chief Minister would adopt a friendlier approach towards Sri Lanka.
He said Prisons Reforms, Rehabilitation, Resettlement and Hindu Religious Affairs Minister D. M. Swaminathan should reveal how many Sinhalese people had been resettled in the North and East, how many lands had been released to them and how much had been spent on resettling them.
"No steps have been taken to resettle Sinhalese in the north and east. Minister Swaminathan revealed in Parliament that Rs. 80 million had been spent to build Kovils in the north and east. We would like him to reveal how much had been spent to build Buddhist temples there," he said.
He said the Government should reveal its stance on the resolution approved by the Northern Provincial Council, prohibiting the construction of Buddhist temples in the North.
Mr. Warnasinghe said Minister Wijeyadasa Rajapakshe had said that there were no legal provisions for the Provincial Councils to adopt such resolutions and added that if it was so Provincial Councils should be dissolved.
Commenting on Prime Minister Ranil Wickremesinghe apologizing for the UNP burning the Jaffna Library, he said it was an admirable move and added that no Tamil politician had ever appologised for the devastation caused to Buddhist Temples by the Tamils. (Ajith Siriwardana)