---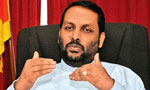 UPFA General Secretary and Minister Mahinda Amaraweera yesterday said five senior members of the Joint Opposition requested Prime Minister Ranil Wickremesinghe to sever ties with the SLFP, offer them six ministerial portfolios, three state ministerial and two deputy ministerial posts to support the President to form a separate government.
Minister Amaraweera told reporters at his office that it was those five JO members who were closely associated with ex President Mahinda Rajapaksa to destroy the SLFP, engaged in mudslinging at President Sirisena and jeered at the party head office.
"They are determined to create rifts in the SLFP and give the local government polls victory to the UNP on a platter. They are the ones who orchestrated the defeat of President Rajapaksa and the SLFP at the 2015 elections," Minister Amaraweera said.
He added that the SLFP leadership has come to a point where no more betrayal by them could be tolerated and strict disciplinary action would be taken against all those who betrayed the Party and insulted the party leadership and jeered at the party headquarters.
Minister Amaraweera said two crucial meetings were scheduled to be held yesterday – the SLFP parliamentary group meeting at 7.00 p.m and followed by the Central Committee meeting to review current issues facing the party and added the 'Pada Yathra' of the JO would definitely be discussed. He said all SLFP Parliamentarians had been invited to the group meeting scheduled to be held last afternoon including closest associates of Kurunegala District Parliamentarian Mahinda Rajapaksa like Dulles Alahapperuma, Kumara Welgama, Pavithra Wanniarachchi, Mahinda Yapa Abeywardana, Mahindananda Aluthgamage despite their behaviour.
Minister Amaraweera admitted that his efforts to bring party leader, President Maithripala Sirisena and Mahinda Rajapaksa on one stage was a flop and that would never happen. "Enough is enough. Party leader President Sirisena and the Central Committee had shown much patience to their betrayal acts for more than 20 months and the issues have reached boiling point now. There will be no more excuses and the CC will take strict possible action against those who have betrayed the party. The 65th Party convention to be held on September 3 in Kurunegala will be a turning point to the party as very crucial decisions are to be taken at the main ceremony," he said.
Commenting on the opposition to the unity government led by the UNP, Minister Amaraweera said the first unity government was formed by former President Rajapaksa by wooing 19 UNP members to the SLFP after signing an agreement between the two parties in 2006. "Former President Rajapaksa gave 19 important ministerial portfolios to those who crossed over from the UNP and made them to sit on the front seats in Parliament sending senior SLFP members to the back seats. It is ridiculous for them to talk against the consensual government by stooping to that kind of actions in the past," he charged. (Sandun A Jayasekera)